Your dog is a family member. So, it makes sense that you want your pooch to travel in safety and comfort.
Recognizing that 78.2 million people own dogs, according to The Humane Society, the car industry has gone to great lengths to cater to the furry-family demographic in the United States.
From fold-down cargo areas that can easily be hosed down, to cargo dividers that keep Fido safe and secure while the car is moving, there's a host of features pet owners can get for their new vehicles. Some of these pet perks come standard, while others require an upgrade, but if making sure your four-legged family member is as happy as a clam on your next road trip or ride to the grocery store, then consider these six dog-friendly cars. Manufacturer's Suggested Retail Prices and miles per gallon estimates come from the carmakers.
GMC Acadia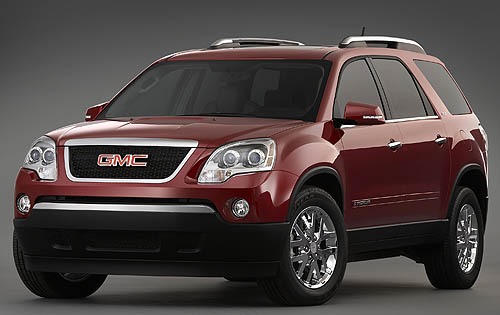 Suited for dog owners who are toting around medium- to large-sized dogs, the GMC Acadia has ample cargo space to haul pounds of dog food or keep the pooch safe and in comfort when out and about.
Boasting "more cargo space behind the third row than any competitor in its class," this 3.6-liter V-6 crossover has ample space and underfloor storage behind the third row. The Acadia can seat up to eight or carry a combination of passengers and cargo thanks to the ability to fold the third-row split-bench seats flat. Touch-activated climate control will ensure your dog isn't too hot or cold, even in the third row.
Your pooch will also enjoy a smooth ride because of the Acadia's fully independent suspension. Opt for the all-wheel-drive model, which instantly reacts to the conditions on the road, if you want your dog to have an extra-smooth ride.
Volvo XC70 3.2
Targeted toward people and pets who love the outdoors, the Volvo XC70 all-wheel-drive wagon stays in control on multiple terrains and offers versatile cargo space, so you can easily transition from a hike in the mountains to a trip to the pet store.
Aiming to leave more room for play, the six-cylinder 3.2-liter XC70 includes a split-folding rear seat, improved load capacity and an add-on power-operated tailgate.
Pet lovers can purchase the compartment cargo divider for the Volvo XC70 that, used with the steel safety grille, divides the cargo area into two sections, making it ideal if you want to carry your dog and luggage at the same time. If your dog is into toys or outdoor gear, you'll appreciate the luggage net that attaches to the load-lashing loops in the compartment floor and keeps leisure equipment or other loose items in place.
Kia Soul
You don't have to spend a fortune to have Spot riding in style, thanks to the Kia Soul.
Named a Best Buy by Consumers Digest and bestowed a Top Safety Pick by the Insurance Institute for Highway Safety, or IIHS, the four-cylinder 1.6-liter Kia Soul will make sure your dog gets where you are going in safety and style. With 23.7 cubic feet of cargo space, automatic climate control optional on the premium Soul model and the standard 60/40 split-folding design, you'll have enough tail-wagging room to cart your canine and other passengers.
Both sections of the rear seats can also be folded to give you even more room. You won't have to worry about your dog getting overheated in the car, thanks to the special glass that reduces the effects of the sun's rays and prevents heat buildup, all the while giving you more privacy. The standard cargo area light will help on nighttime outings or long road trips when you want to check in on your furry friend. In addition to having a reasonable sticker price, upgrade to the Eco package and you can save on trips to the gas pump, thanks to its idle stop-and-go system and low-rolling resistance tires.
Toyota FJ Cruiser
Let's face it: Regardless of how much we love our dogs, sometimes they can get dirty, especially after hikes or other outdoor activities.
With a high likelihood of muddy seats and floors, a perfect solution is the 4-liter six-cylinder Toyota FJ Cruiser, which comes standard with water-resistant seating surfaces. That will come in handy if you use your FJ Cruiser to cross a creek — which, by the way, you can, thanks to its elevated air intake and protected electrical components.
The FJ Cruiser also comes standard with a ton of safety features, such as the Star Safety System, which is a suite of six safety features, including vehicle stability control, traction control, multiterrain four-wheel anti-lock brakes, electronic brake-force distribution, brake assist and Smart Stop Technology. You won't have to worry about your dog getting hurt from a side collision, either. The FJ Cruiser is equipped with six air bags and side-impact door beams.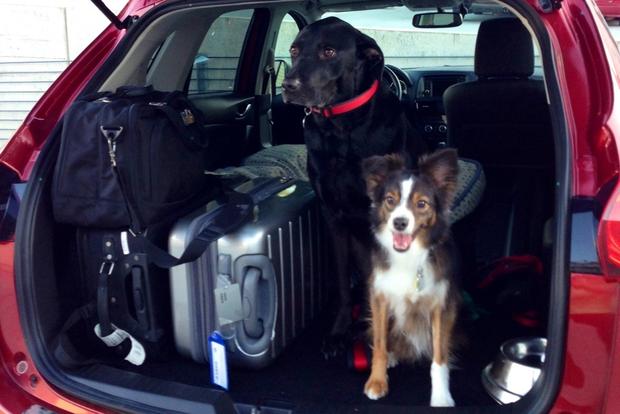 Mazda5 Sport
Once your best friend hits a certain age, getting in and out of your vehicle can be tough. To make it a little easier on their bones and joints, consider the Mazda5.
Whether you have small dog or a large one, you'll appreciate the 2.5-liter four-cylinder Mazda5's sliding rear doors and 27-inch opening. The doors latch in the open position, so your dog won't have to worry about it closing while he or she is getting in. The rear liftgate and low cargo floor makes loading your dog in and out quick and easy. With the 50/50-split, fold-down third row, you'll have 44.4 cubic feet of cargo space.
You won't have to worry about your dog getting overheated if he or she is sent to the back of this minivan thanks to the automatic climate control with independent second-row fan speed controls. Not only will your pooch be comfortable in this ride, so will your wallet. The Mazda5 claims to offer some of the best fuel economy in its class. Calling it a minivan doesn't mean it has to drive like one.
Do not forget to share…